NOTE THE SPECIAL START TIMES!
WELCOME
to our
Memorial & Celebration
of
NEHAN-E, (Pari-Nirvana) the traditional day to mark the historical Buddha's death and passing from this visible world.
This is also a day for each of us to
remember in our homes those family and friends who have gone before
. As well, we mark the passing of
Nishijima Gudo Wafu
, my Teacher (and Taigu's Grand-Teacher).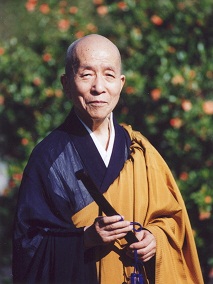 There is a portion of our Memorial & Celebration for you
AT HOME
(see description below in this thread), and also a commemoration during this
4-Hour Treeleaf Monthly Zazenkai (SEE SPECIAL CHANTS ANC CEREMONY CONTENT BELOW IN THIS THREAD).
We recall (as appropriate to each family) our parents, grand-parents, siblings, our relatives near and distant, all our ancestors reaching back through the generations, and our dear friends and other cherished ones who have passed. As mentioned, our Memorial is also in honor of
Master Nishijima
, who passed from the world this month.
http://www.treeleaf.org/forums/showt...shi-has-Passed
So, do 'sit-a-long' with
our 4-hour ZAZENKAI
, netcast
LIVE
9pm Saturday night to 1am Sunday morning Japan time
(that is New York 7am to 11am, Los Angeles 4am to 8am
(Saturday morning)
, London noon to 4pm and Paris 1pm to 5pm
(Saturday afternoon)
) ... and
visible at the following link
during those times and
any time thereafter
...
LIVE ZAZENKAI NETCAST at GOOGLE+ IS HERE:
CLICK ON THE TAB ON LOWER RIGHT FOR 'FULL SCREEN
http://youtu.be/i8W-z2cL0Ck
FOR THOSE NOT ALREADY MEMBERS OF THE CIRCLE WHO WISH TO JOIN TO SIT LIVE WITH A CAMERA, INSTRUCTIONS are posted AT THIS LINK. WE ARE NOW LIMITED TO 10 INDIVIDUALS WITH CAMERAS, BUT ANY NUMBER CAN WATCH LIVE 'ONE WAY' AND SIT-A-LONG VIA THE ABOVE SCREEN. IF JOINING WITH CAMERA, PLEASE MAKE SURE YOUR MICROPHONE IS MUTED:
To mark this time, our Ceremony at the start of the Zazenkai will include a
chanting of "The Verse of Homage to Buddha's Relics, Shariraimon" and Heart Sutra in Chinese-Japanese (to mark our "roots")
.
Words and details are provided below in this thread
. After that, we will celebrate the Buddha (and Master Nishijima) in the way most vital to each ... with Zazen. Our sitting schedule for the
4-hour gathering
will be as follows ...
00:00 - 00:50 CEREMONY (SHARIRAIMON in ENGLISH / HEART SUTRA in JAPANESE) & ZAZEN
00:50 - 01:00 KINHIN
01:00 - 01:30 ZAZEN
01:30 - 01:50 KINHIN
01:50 - 02:30 DHARMA TALK on "Parinirvana, Remembrance & Celebration" & ZAZEN
02:30 - 02:40 KINHIN
02:40 - 03:15 ZAZEN
03:15 - 03:30 KINHIN
03:30 - 04:00 METTA CHANT & ZAZEN, VERSE OF ATONEMENT, FOUR VOWS, & CLOSING
For this special Zazenkai,
a statue of the reclining 'Buddha Entering Parinirvana' will be given special prominence on the Altar
, as will a portrait of our
late Teacher, Master Nishijima
.
As always, we close with the '
Metta Chant
', followed at the end with the '
Verse of Atonement
' and '
The Four Vows
'.
I STRONGLY SUGGEST THAT YOU POSITION YOUR ZAFU ON THE FLOOR IN A PLACE WHERE YOU ARE NOT STARING DIRECTLY AT THE COMPUTER SCREEN, BUT CAN GLANCE OVER AND SEE THE SCREEN WHEN NECESSARY. YOUR ZAFU SHOULD ALSO BE IN A POSITION WHERE YOU CAN SEE THE COMPUTER SCREEN WHILE STANDING IN FRONT OF THE ZAFU FOR THE CEREMONIES, AND HAVE ROOM FOR BOWING AND KINHIN.

ALSO, REMEMBER TO SET YOUR COMPUTER (& SCREEN SAVER) SO THAT IT DOES NOT SHUT OFF DURING THE 4 HOURS.
I hope you will join us ... an open Zafu is waiting.
When we drop all thought of 'here' 'there' 'now' 'then' ... we are sitting all together!