For our upcoming Retreat, I'd like to look again at ... Kinhin ...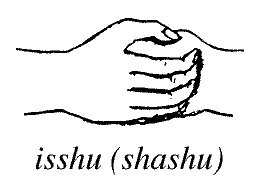 When doing kinhin (walking meditation), walk clockwise around the room, holding your hands in shashu position (there are two versions, employed in different lineages - see photos at right and below). From the waist up, your posture should be the same as that in zazen. (Although exact procedures vary from place to place) take the first half step with your left foot at the peak of the first inhalation. Stand still while exhaling. At the peak of the next inhalation, take the next half step. This sequence is repeated for the whole of the kinhin period. Walk slowly and smoothly, without dragging your feet. Generally, keep up with the pace of the group, and maintain equal distance person to person. Do not drag your feet or make noise. At the end of kinhin, bow from the waste (some groups bow in Gassho, some in Shashu), walk quickly around the room until you return to your seat. Kinhin is usually for 5 or 10 minutes, between seated Zazen (today, we will walk a bit longer, about 20 minutes)

Shashu Hand Position.
Bring your left thumb to the middle of your left palm and close your fist around it. Hold your left fist in front of your chest and cover it with your right hand. Some lineages have the fingers of the right hand face forward (see photo above), some face upward (see photo below) Extend both elbows to the sides so that your forearms form a straight line.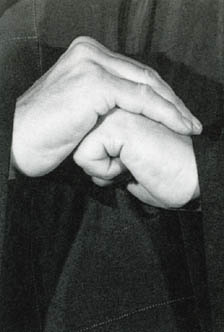 REMEMBER: EVEN AS WE MOVE, THERE IS NO WHERE TO GO
(today's explanation runs a little long, about 15 minutes, followed by 20 minutes of walking)

Press on arrow for 'play'


NOTE: IF YOU ARE HAVING TROUBLE TO SEE THE SCREEN OR START BUTTON,




PLEASE UPDATE FLASH.

SEE HERE